FORGE Connecticut Launch Party and Startup Pitch Contest Recap
June 5, 2023 – It's official: FORGE has expanded into Connecticut! To celebrate, we brought Connecticut's innovation and manufacturing ecosystem together for an afternoon of festivities and $40,000 in non-dilutive product development grant funding.
Connecticut-based startups joined local suppliers and manufacturers, investors, and startup ecosystem organizations to connect, demonstrate their products, and compete for funding prizes at the Trinity Innovation Center in Hartford, Conn. More than 120 people attended! Ten startups demonstrated their products at tables, and six ecosystem collaborators set up displays.
FORGE's Vice President Adam Rodrigues and Executive Director Laura Teicher kicked off the pitch competition by speaking to the bustling crowd. Rodrigues said, "Thanks to all our startups, sponsors, and ecosystem collaborators, I've got so many friends in Connecticut now!"
Teicher introduced the first featured speaker, Connecticut Chief Manufacturing Officer Paul Lavoie. Lavoie said he was glad to see FORGE in the state because "we needed to create an ecosystem that could support people through the innovation process."
CTNext Executive Director Ony Obiocha spoke, saying "We've always had innovators in CT, but we didn't have the ecosystem they needed to thrive and find resources. CTNext wants to be the glue to bring these entrepreneurs and resources together."
Then it was time to pitch! FORGE chose five finalists to pitch from dozens of CT startups who applied to the event. The finalists had a strict two-minute limit to explain and promote their products. We heard about amazing CT innovations from:
Ainara Design – Its Kala necklace is designed to hold up any shirt, letting mothers nurse in their pre-baby clothes.

BRASH Power – Its system creates low-emission on-site residential heat and power from natural gas.

Mobabbi – Its smart potty uses sound conditioning to toilet train babies.

ReAbility – Its WorkStation multi-gym is perfect for physical therapy, rehab, and fitness.

SedMed – Its Toilet Lift Assist is a self-powered toilet lifter for older adults and people with disabilities.
Also demonstrating their products at the tables were:
Thank you to our partners in Connecticut.
Throughout the event, participants had the opportunity to vote for the audience choice award. Five startup winners were judged live by the event's judges:
David Carson, Executive Vice President at Burt Process, a leader in the design, manufacturing, and distribution of high-purity and corrosion resistant equipment, systems and services for industries including pharmaceutical, biotechnology, microelectronics, metal finishing, and chemical processing.

Hector Castillo, CTO at Floe, a Connecticut-based startup which has worked with FORGE to gain access to advisors, capital, and industry connections to move its product from prototype into production.

Christian Rodriguez, Field Application Engineer at Samtec, a FORGE partner and sponsor which manufactures and supplies electronic connectors, helping startups move from prototype to the production stage.
The pitch contest and audience choice winners were:
First place ($20,000): SedMed

Second place ($10,000): BRASH Power

Third place ($5,000): ReAbility

Fourth place ($3,000): Ainara Design

Fifth place ($1,000): Mobabbi

Audience choice ($1,000): Ainara Design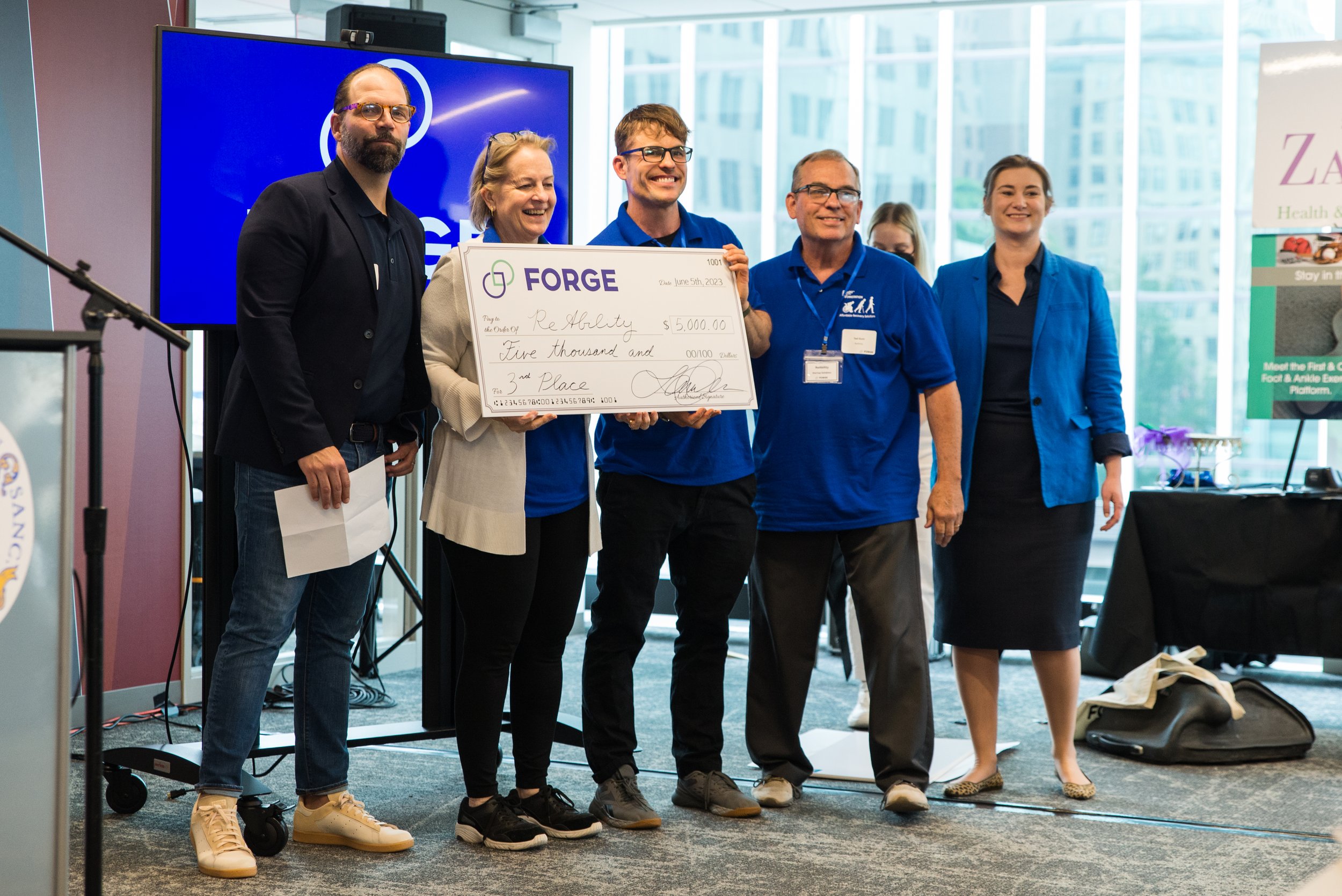 Everyone left the event with a tote bag screenprinted at MakeHaven by local artist Swagarian and filled with snacks and products made in Connecticut: PEZ dispensers, Wiffle balls, Deep River chips, popcorn and enamel pins donated by Lesser Evil, Craftsman Cliff Roasters compostable K-cups, and Bigelow tea. The FORGE team had so much fun celebrating in Connecticut. We can't wait for our next event here!
If you're a startup, manufacturer, innovation ecosystem organization, or potential sponsor interested in learning more about or getting involved with FORGE, contact us today.
Here are a few more pictures of the FORGE Connecticut Launch Party and Startup Pitch Contest!
Thank you to all FORGE annual sponsors: